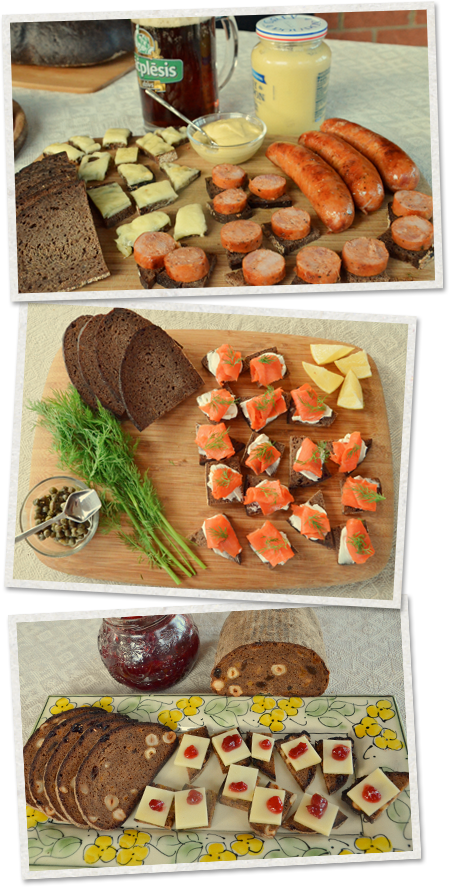 All the countries that hug the Baltic Sea bake bread using rye flour -- rye is indigenous to the region. But it is Latvia, on the eastern shore of the Baltic sea, that produces the most delicious highest quality rye bread, as evidenced by top prizes at food exhibitions and by exports to neighboring countries.
Latvian rye bread has been praised in Gourmet magazine by its former editor-in-chief Ruth Reichl: "This is powerful stuff that reminds you of why bread is called the staff of life. I am pretty sure you could live on it alone..."
One hundred percent sourdough rye bread is the traditional staple of Latvia, and it is central to Latvian culinary and cultural history. For a thousand years Latvians baked this bread in wood burning ovens reaching 900degrees fahrenheit, using 100 percent rye flour, sourdough starter, a hint of caraway and little else.
In Latvia babies teethe on the rye bread. On long voyages Baltic sailors fill the holds of their ships with it- sourdough rye lasts for months. Latvians soak rye bread in milk and eggs to make bread pudding. They serve rye bread croutons fried in garlic and butter as bar snacks. Like rice in Asia, rye bread -- known as rupjmaize in Latvian -- is considered holy. It is never wasted. To leave it bottom side up on the counter is considered disrespectful.
The bread itself -- dense, dark, sweet/sour with a hint of caraway -- marries perfectly with the foods of Baltic farms and fisheries: rich butter, herring, smoked meats, fish, and pork sausage.
While the rye breads of Denmark and Sweden are known as the base for those countries excellent open-faced sandwiches, Latvian rye bread, made without any wheat, is considered the ne plus ultra of rye breads.
For decades bread lovers hungering for 100 percent sour dough rye have had to air freight it from Europe at high cost. Now, thanks to Black Rooster Food, you can buy it, made in USA, in your neighborhood or online.